Jeep gladiator is a fine truck of 2021. All the Jeep Wrangler's best qualities are combined in this version that includes off-road ability, bold style, and open-air driving. It also has a 5-foot truck bed to add more practicality for vehicle users. This midsize pickup truck has the superpower to go off-road with its unrelenting capabilities.
The Jeep Gladiator enters the third year of its production in 2021. It is a truck as well as a Jeep. It is the beginning of your adventure. Some people call it a truck with lifestyle as it supports all your adventures with style. It has four variants to choose from, base Sport, sport S, mid-priced overland, and the full house rock crawling Rubicon. All these variants are outstanding and popular.
Despite all these fantastic features of JT models, there is one drawback of some JT models that they come with halogen lights which bring less brightness and no good looking. The life span of these halogen bulbs is only 1000 hours, and they consume 85% more power to light as compared to LED tail lights.
If you are looking to enhance the look of your Jeep Gladiator with amazing LED tail lights, our dazzling smoked LED lights are all you are looking for.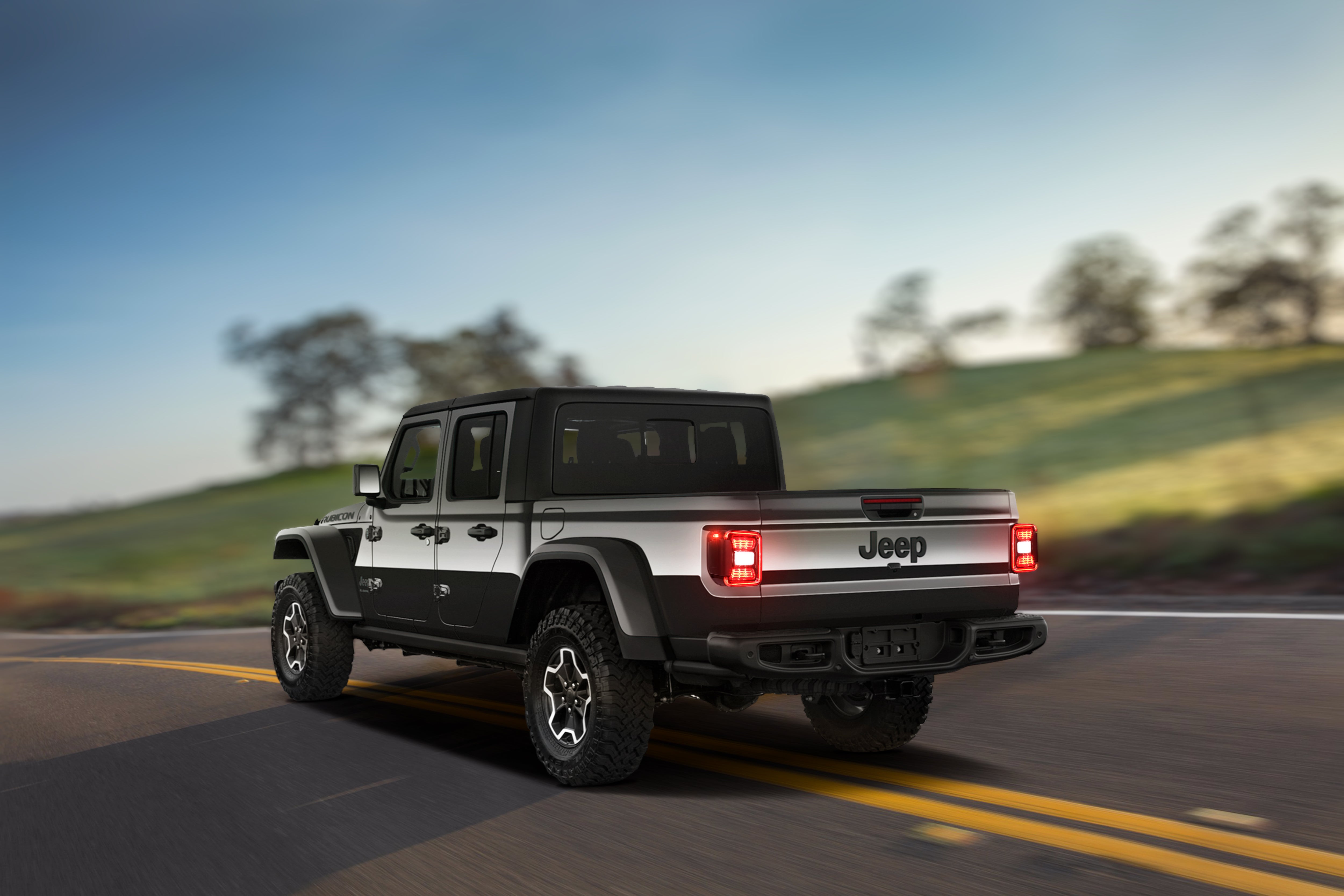 The main advantage of replacing halogen lights with LED tail lights is that they increase road illumination, therefore improve safety when driving at night. These lights offer the best forward and reverse chasing effect that you never miss a spot. It also has an eye-catching infinity mirror to give a fantastic look to your vehicle. It provides increased life to the Jeep Gladiators than typical stock lights. It does not matter how the terrain is; you will always have support with the help of LED tail lights.
Below are few keys features of our Jeep Gladiator LED tail lights. Let's have a look: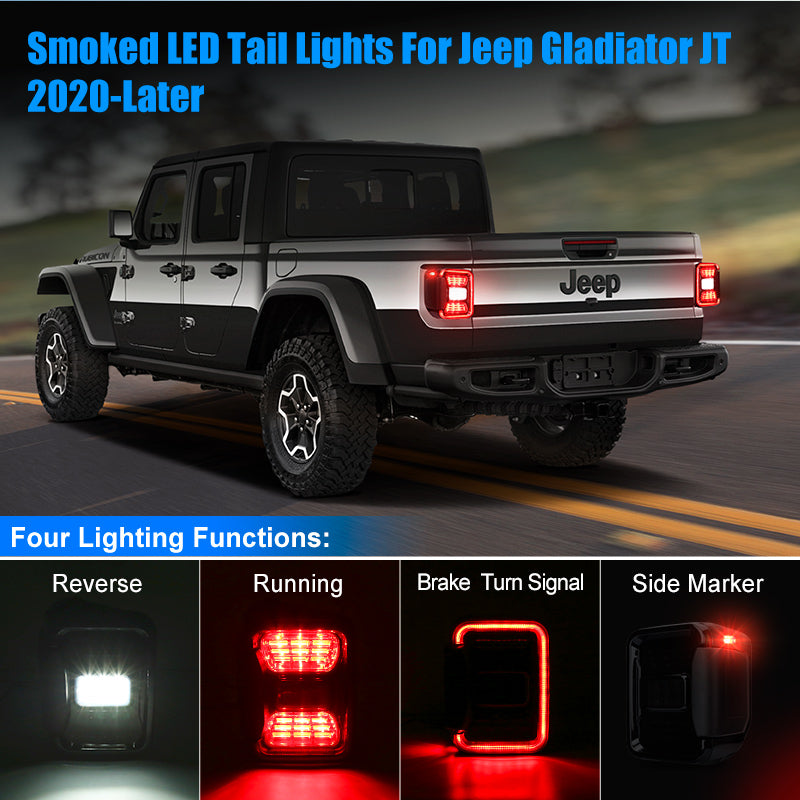 Unlike any other typical tail lights, these LED tail lights are very user-friendly and easy to install. It is a simple plug-and-play installation. It takes only 15 minutes or less to install. The installation does not include and external wiring. How cool is that? 
The stylish outlook of LED tail lights gives a stunning look to your Jeep Gladiators. But it only fits those vehicles with halogen stock tail lights, and it does not include blind-spot sensors.
The smoke lens in these LED tail lights enhances both the mystery and the sports elements. These multi-functional lights are brighter than the original Jeep Gladiator lights. They provide extra illumination to the back of your Jeep Gladiator.
The multi-functional LED tail lights to have a turn signal light (Red light), brake light (red light), reverse light (white light), and running light (red light). They have a life span of 50000 hours. Our Jeep Gladiator tail lights come with one year warranty.
Other key specifications of these Jeep Gladiator tail lights are that these lights are 100 percent new. The color of the lights is a black housing smoke lens. They are made of durable black ABS Housing & smoke PMMA lenses. The IP grade is IP68. LED tail lights of Jeep Gladiators are waterproof and work efficiently in any weather condition. They are a perfect fit for the Jeep Gladiator model 2020-2021 but only fit those vehicles with halogen tail lights. The package includes two LED smoked tail lights with road resistors.  
All these functions make Jeep Gladiators a perfect fit. Now you can stay visible in any condition.
See More Categories: